UAIST (Union Africaine contre les Infections Sexuellement Transmissibles) IUSTI Africa-MENA
23rd IUSTI World Congress 2022
The 23rd IUSTI World Congress 2022, was successfully hosted by the Africa-MENA Region from 4 to 7 September 2022 at the Elephant Hills Hotel in Victoria Falls, Zimbabwe. It was attended by 286 delegates from 47 countries, with 243 in-person attendees, and 43 attendees accessing the congress online via the congress virtual platform. The theme of the conference was "Confronting Inequities in STI Prevention, Diagnostics and Care".
This was the fourth time the IUSTI World Congress has been hosted on the African continent following the congresses in Sun City (1999), Cape Town (2009) in South Africa and Marrakech (2016) in Morocco.
The majority of the delegates were from South Africa, followed by the United States of America, Zimbabwe, United Kingdom, Switzerland and Kenya, in that order. The other delegates, in smaller numbers, were from Qatar, Brazil, Zambia, Belgium and Italy.
The congress was attended by scientists, researchers, implementers, community members, students and other stakeholders. The presentations made by speakers addressed new research findings, global issues on the successes and challenges of providing accessible and equitable services to all those needing services for the prevention and control of sexually transmitted infections, including HIV as well as experience with use of providing diagnostic tests at the community level.
Delegates who attended in person, as well as those online, were sent a link to download their attendance certificates with 20 Continuing Medical Education (CME) points and another link for access to a Virtual Platform with all the sessions to listen to in their own time. This facility was made available for 3 months from the end of the conference. Programme-Book IUSTI 2022
The World IUSTI Executive Committee meeting was held on Saturday 3rd September 2022, bringing the IUSTI World Executive together for the first time in 3 years following the global travel restrictions brought about by the Covid-19 global pandemic.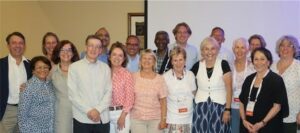 The Opening Ceremony took place in the late afternoon of Sunday 4th September and started with a song and dance from Ubuntu Bomuntu who composed a customized song for the congress about STIs and Stigma to fit with the congress theme of 'Confronting Inequities in STI Prevention, Diagnostics and Care'. Dr Meg Doherty , Director of the Department of Global HIV, Hepatitis and Sexually Transmitted Infections Programmes, the World Health Organization, Geneva, gave the Opening Keynote Address.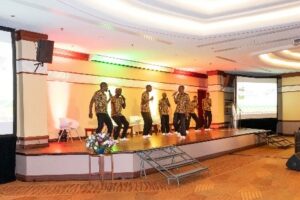 Dr Francis Ndowa and Dr Janet Wilson, the Congress Presidents, gave welcome remarks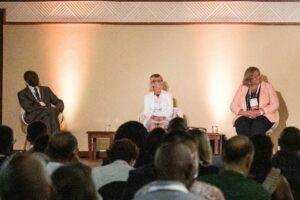 The Closing Ceremony keynote address was delivered by Professor David Mabey from the London School of Hygiene and Tropical Medicine, UK). His address dwelt on whether the management of STIs was ready to move on from Syndromic Management of sexually transmitted infections to aetiological approaches.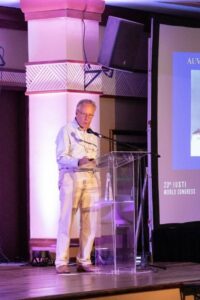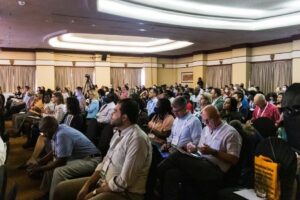 Launched products, with free access, were one of the highlights during the conference. The World Health Organization launched a new guidance for the integration of STI services for people who use HIV PrEP, https://www.who.int/publications/i/item/9789240057425. The Melbourne Sexual Health Centre in Australia launched a Special Issue on sexual health, collating the latest evidence-base, focused on optimizing sexual health services in the 2020's, https://www.publish.csiro.au/SH/SH22107.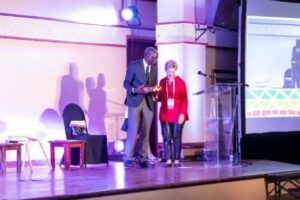 The IUSTI-EUROPE STI Course, which has been a feature in previous conferences, was held on Sunday 14th September. This was organised by Professor Angelika Stary and Professor Marco Cusini and it was entitled "Diagnosis and Management of STIs: From best practice to practical availability". The course was structured in co-operation with World-IUSTI and the World Health Organization. It featured speakers from all five of the IUSTI regions and it was attended by more than 100 delegates.
Prizes and Accolades included the IUSTI Prestigious Lecture which was entitled 'Existing point-of-care tests and future developments for diagnosis and antimicrobial resistance testing' presented by Professor Yuka Manabe from Johns Hopkins School of Medicine. She was presented with her certificate by the Chairpersons of her lecture, Professor Remco Peters and Professor Charlotte Gaydos.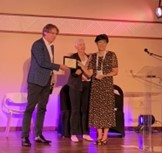 At the Closing Ceremony the winners of oral and poster presentations were awarded their certificates. The winner of the oral presentation was Dr Hiam Chemaitelly from the Weill Cornell Medicine-Qatar, whose presentation was entitled, "The Epidemiology of sexually transmitted infections among female sex workers in the Middle East and North Africa: A systematic review and meta-analysis". The runner-up of the oral presentation was Dr Daniel McCartney, from the London School of Hygiene & Tropical Medicine, UK, whose presentation was, "High prevalence of asymptomatic gonorrhoea and chlamydia among transgender women in Brazil".
The winner of the poster presentation was Dr Fortunate Machingura, from the Centre for Sexual Health and HIV/AIDS Research, Zimbabwe, with a poster on, "Prevalence and risk factors of STIs among female sex workers in Zimbabwe: A cross-sectional respondent-driven sample". The runner up for poster presentations was Professor Bradley Stoner, from Queen's University, Queen's University Kingston, Canada, with the poster on, "Expanding access to STI services: The Kingston (Ontario) Quick-Test clinic".
IUSTI World Congress 2022 Sponsors
Although there was a reasonable response to the sponsorship proposals from both big and small companies, the conference managed to raise only about 60% of the target budget. The International Organising Committee, the Fundraising Committee and the Regional Director and Committee Members of the IUSTI Africa-MENA Region are most grateful to all the sponsors for their support and for making the congress as successful as it was. IUSTI World Congress 2022 Conference Report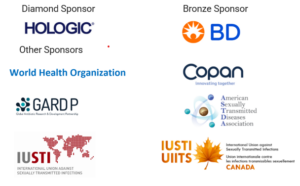 19th IUSTI World Congress 2018
Brief Report: In June 2018, during the Executive Committee meeting held in Dublin, a proposal was submitted to the Executive Committee that, rather than creating a separate IUSTI Branch for countries in the WHO Eastern Mediterranean Region (EMRO), a structure should be put in place to combine and strengthen the participation of IUSTI members in EMRO with those in the WHO Region for Africa (AFRO) and harness the efforts of the members from the two regions to create a stronger regional perspective. This proposal was accepted and approved. Henceforth, this region of the IUSTI shall be called, IUSTI Africa & Middle East and North Africa (IUSTI Africa-MENA)
For IUSTI, the countries constituting MENA will reflect those predominantly under the Eastern Mediterranean Region of WHO since these countries have had joint planning meetings and training sessions for a long time. The following countries, therefore, shall constitute MENA: Afghanistan, Algeria, Bahrain, Djibouti, Egypt, Iran, Iraq, Jordan, Kuwait, Lebanon, Libya, Morocco, Oman, Pakistan, Palestine, Qatar, Saudi Arabia, Somalia, Sudan, Syria, Tunisia, United Arab Emirates, and Yemen.
This would mean that people living in the MENA countries will have a choice to join either IUSTI Africa-MENA Region or IUSTI Asia-Pacific Region.
IUSTI Africa-MENA intends to strengthen its networking across countries of these regions by engaging more with governmental health workers involved in STI management and control, as well as non-governmental organisations (NGOs) and community-based organisations, especially those currently operating in the field of HIV and STIs and working with key populations.
17th IUSTI World Congress 2016
Date & Venue: Marrakesh, Morocco, 9 to 12 May 2016
The theme was, "Health impacts of new STI/HIV technologies and Vaccines"
Chairpersons: Jo-Anne Dillon, Amina Hançali, Hicham Oumzil
IUSTI Regional Director: Yaw Sax Adu-Sarkodie
Brief Report: The 17th World Congress of the International Union against Sexually Transmitted Infections (IUSTI) took place at the Palmeraie Conference Center in Marrakech, Morocco, from 9th to 12th May 2016. This Congress was the second IUSTI meeting in Africa, after Cape Town, South Africa, in 2009. The theme was "Health impacts of new STI/HIV technologies and Vaccines". The congress programme focused on both classical sexually transmitted infections (STIs) and HIV, from clinical to public health, behavioural and laboratory aspects.
The conference attracted more than 330 International delegates from 28 countries including 15 African countries, and also saw the participation, for the first time, of delegates from the Middle East and North Africa (MENA) region.
11th IUSTI World Congress African 2009
Date & Venue: Cape Town, South Africa, 9 to 12 November, 2009
The theme of the meeting was "STIs: old problems, new solutions".
Chairperson: David Lewis
IUSTI Regional Director: David Lewis
Brief Report: This was second IUSTI meeting in Africa following the one held 10 years previously, in 1999. The Conference focused on both traditional STIs and HIV from clinical, public health, behavioural and laboratory aspects.
A total of 331 international delegates attended the meeting.

1999 Lesedi Africa: IUSTI/STD/HIV 6th World Congress and 38th IUSTI General Assembly, combined with the 7th Joint Biennial Congress of the STD and ID Societies of Southern Africa
Date & Venue: Sun City, South Africa, 21 to 24 November, 1999
Chairperson: Ron Ballard
IUSTI Regional Director: Ibra Ndoye
Brief Report: This meeting in Sun City was the first time the Union's Executive Committee had ever met in the African Region.
IUSTI Africa-MENA Newsletters
All Newsletters are now located in the Newsletter section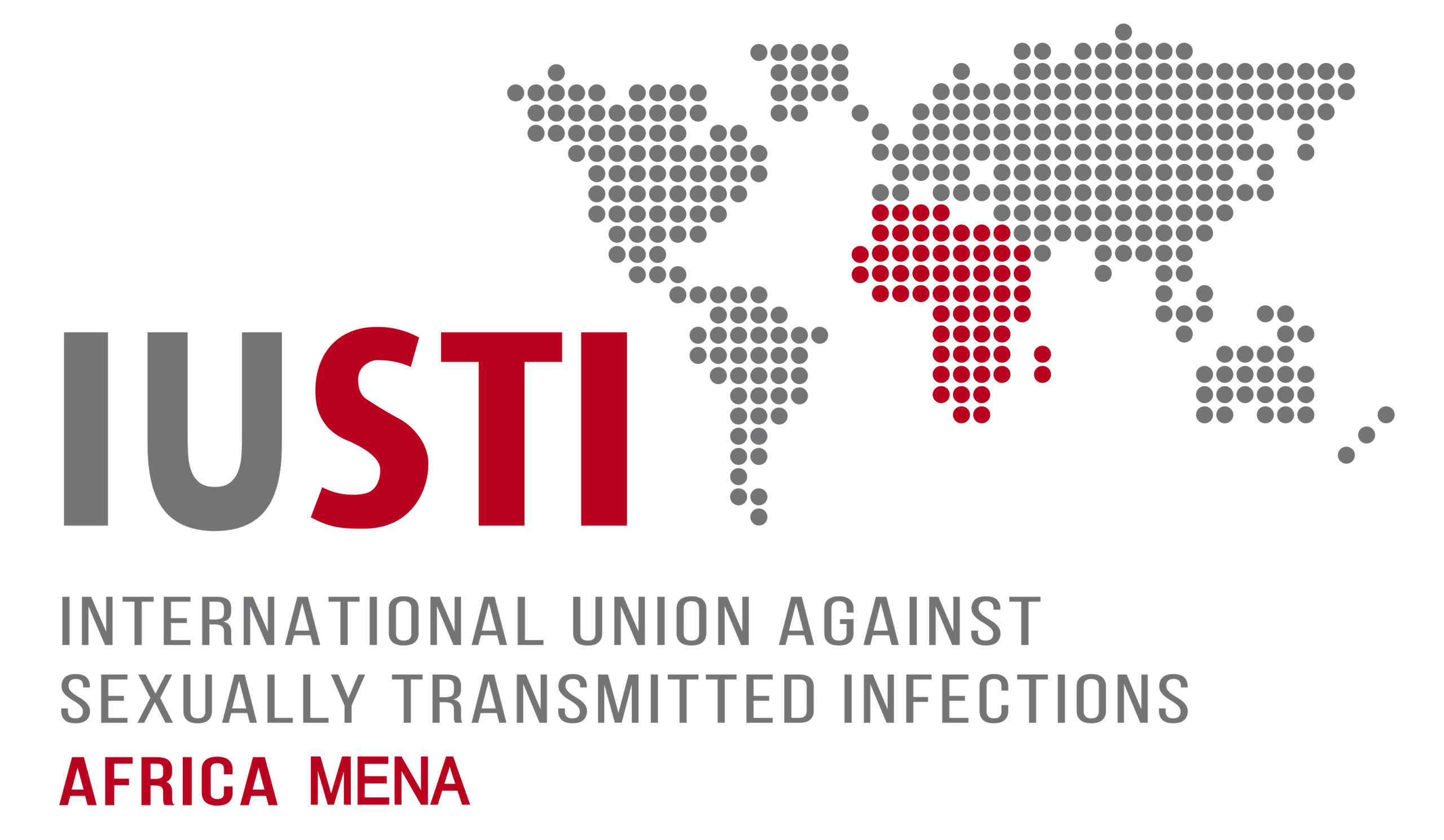 Regional Director
Dr Francis Ndowa (Zimbabwe)
Specialist Venereologist
Harare, Zimbabwe
Email
Office Bearers
Regional Chairperson
Dr Amina Hanҫali (Morocco IUSTI Exco)
STIs Laboratory
Department of Bacteriology
National Institute of Hygiene
27, Avenue Ibn Batouta.
Office Bearers
Dr Sara Lowe (Zimbabwe, IUSTI Exco)
Dr Laith Jamal Abu Raddad (Qatar, IUSTI Exco) Professor Remco Peters (South Africa, IUSTI Exco)
Committee Members & Office Bearers
Regional Treasurer:
Laith Abu-Raddad (Qatar, IUSTI Exco
Web Development Officer:
Sara Lowe (Zimbabwe, IUSTI Exco)
Publicity & Liaison Officer:
Remco Peters (South Africa)
Science & Knowledge Officer:
Hicham Oumzil (Morocco)